On this page:
University Archives
The University Archives preserves the institutional memory of Wright State through the collection of official university records and related materials. The collections are rich sources of information regarding academics, administrative concerns, student life, and the development of the university. Materials include the university presidents' papers, course catalogs, yearbooks, music recitals, theatre programs, The Guardian and other publications, and the University Historical and Photograph Collection.
Permanently valuable university records may be stored in the University Archives. Storage space is reserved for records of historic interest or with an enduring research value. Examples include: departmental publications and reports; administrative and academic committee records; historical files documenting development of departments or offices; student and faculty organization files; institutional budget materials; student publications; photographs, slides; memorabilia; and other ephemera.
Many University Archives collections have online collection guides, and some are available online in CORE Scholar: University Archives.
Campus History
Dayton's leaders laid groundwork to establish Wright State in 1961. The region had developed a need for an increasingly educated workforce when the area began to emerge as a high-technology center. Yet, Dayton was the second-largest Ohio metropolitan area without a public higher education facility. Wright State University filled a critical gap and became the region's first.
Thanks to the foresight of many key community business leaders, a community-wide fundraising effort was begun in 1962 to raise seed money from private funds to establish a branch campus of The Ohio State University and Miami University in or near Dayton. The ultimate goal was to establish a campus with the potential to grow and quickly transition into an independent public university. This effort was truly a campaign of the people. The larger employers, such as General Motors and National Cash Register, established payroll deduction plans.
More than 2,000 campaign workers recruited 10,000 contributors who pushed the campaign over its $3 million goal in just over three months. The land needed for the campus was partially purchased and partially deeded to the state by the U.S. Government from available land adjacent to Wright-Patterson Air Force Base, and the construction of the first building, Allyn Hall, was completed. In 1964, the Dayton Campus of Ohio State and Miami Universities was opened. In 1967, the campus achieved status as an accredited independent university, and the newly named Wright State University became Ohio's 12th state-assisted university.
During its early history, Wright State was characterized by rapid growth. When the then branch campus opened, 3,203 students enrolled. That number increased to just over 12,000 by 1974. By 1984, that figure jumped to about 15,500. The 1990s saw student enrollment remain steady at around 16,000. More recently, growth in other areas has occurred.
Over the years, Wright State has provided additional resources to accommodate the traditional, residential student. Hamilton Hall, a traditional dormitory-style residence hall that houses up to 322 students, was built in 1970 and remained for a time the sole residence hall for the university.
However, in 1980, the first phase of a multi-complex housing community opened, marking the university's new focus on attracting residential students. Today, university housing also includes apartments and housing geared for nontraditional and older students, as well as for families.
For more information about the early history of Wright State University, see Founding and Fulfillment: The History of Wright State University. Many special collections related to Wright State University history have online collection guides. The Wright State University Retirees Association is collecting oral history interviews with faculty, staff, and students from the early days of Wright State; these interviews are available in CORE Scholar, the campus institutional repository.
Presidential Profiles
Strong leadership forges strong communities. Since its founding, Wright State University has been fortunate to have leaders dedicated to the central themes of its mission: learning, giving, cooperation, community, creativity, and research. The individuals selected to guide the university have continued to grow the university into a culture of innovation.
Susan Edwards (2020–present)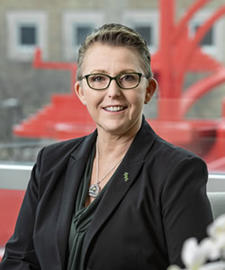 Susan Edwards is the eighth president of Wright State University, taking office on January 1, 2020. The motto of her administration is "Recruitment, Retention, and Relationships," and she is committed to student success with an emphasis on experiential learning and high-quality classroom education.
Edwards joined Wright State in 2018 as executive vice president for academic affairs and provost. Prior to coming to Wright State, Edwards served as vice provost for faculty affairs and professor of biology at Appalachian State University in Boone, North Carolina. Previously, she was a faculty member in the Department of Physiology and Pharmacology in the Faculty of Medicine, Health, and Molecular Sciences at James Cook University in Australia.
In 2007, Edwards left her native Australia to join the Department of Biology at Appalachian State. She then took on a leadership role as assistant chair for three years before being appointed chair of the department in 2012. She has taught numerous courses in 10 different degree programs, including veterinary science, medicine, biology, pharmacy, biomedical science, aquaculture, medical laboratory science, physiotherapy, exercise science, education, and nursing.
Edwards received a Ph.D. in comparative physiology from Deakin University in Victoria, Australia; an M.S. in neuroscience from The University of Melbourne; and a B.S. in biology from Deakin.
Cheryl B. Schrader (2017–19)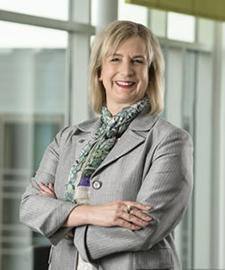 Cheryl B. Schrader began her tenure as the 7th president of Wright State University on July 1, 2017, becoming the first woman to lead the university in its history. She came to Wright State from Missouri University of Science and Technology, where she served as chancellor beginning in 2012.
During her tenure, President Schrader emphasized financial sustainability, administrative transparency, and campus conversation as she helped guide Wright State through a financial crisis and a number of significant challenges faced by the university. She also helped foster a campus atmosphere aimed at tackling broader domestic and global issues that provide opportunities for graduates to excel in fields that will define the future.
Before serving at Missouri S&T, Schrader served as associate vice president for strategic research initiatives at Boise State University and dean of the College of Engineering at Boise State. She also held numerous administrative positions at The University of Texas at San Antonio, including associate dean for graduate studies and research for the College of Engineering and the College of Sciences, university graduate recruitment coordinator and associate director of the Center for Advanced Propulsion Studies.
In addition, she interned at the McDonnell Douglas Astronautics Company in Huntington Beach, California. She is a recipient of the Presidential Award for Excellence in Science, Mathematics, and Engineering Mentoring from the White House.
Schrader grew up in Illinois and received her bachelor's degree in electrical engineering from Valparaiso University and her master's and Ph.D. in electrical engineering from the University of Notre Dame.
David R. Hopkins (2007–17)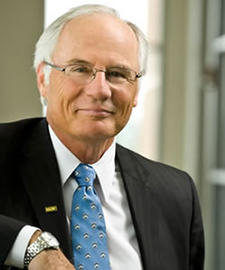 David R. Hopkins was appointed the sixth president of Wright State University on July 6, 2006, and assumed the office on February 1, 2007.
Hopkins previously served as provost of Wright State University from 2003 until his appointment as president. As provost, he served as the university's chief academic and operating officer and was responsible for overseeing and guiding all of the university's academic schools and colleges and nationally funded research centers and institutes.
A central theme to his administration was the creation of a culture for innovation throughout the university that is reflected through the development of several Centers of Excellence. Six of these multidisciplinary units were designated Ohio Centers of Excellence by the state and are a reflection of Hopkins' commitment to technology-based economic development in order to help transform and grow the economy of the region.
Hopkins stepped down in March of 2017, with Curtis McCray serving as interim until Cheryl Schrader assumed the office on July 1, 2017.
Kim Goldenberg, M.D. (1998–2007)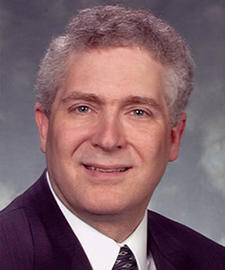 Dr. Goldenberg came to Wright State as a faculty member and chief of the new General Internal Medicine division in 1983, eventually serving as dean of the medical school from 1990 to 1998 before becoming president following the death of President Harley E. Flack.
During his tenure as president, the university experienced tremendous transformation, including the creation of a nationally recognized first-year student experience, a broader and more innovative research enterprise, one of the strongest enrollment growth rates in the state, and a successful fundraising campaign in place. Student enrollment and retention increased significantly, and total research awards rose to $63 million.
Upon his retirement from the presidency, Dr. Goldenberg became President Emeritus and returned to the School of Medicine faculty as a professor.
Harley E. Flack (1994–98)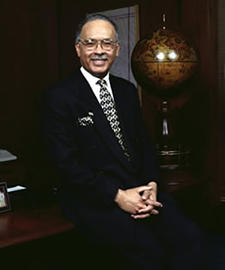 The inauguration of Harley E. Flack as Wright State's fourth president took place on October 7, 1994, when he became the first African American president of a major metropolitan university in Ohio.
During his tenure, Flack stressed collaboration and community building, both within and outside the university's walls. As a direct result of his leadership, he forged a proactive relationship between Wright State and Dayton Public Schools to improve educational opportunities for all children. In addition, the state of Ohio included a line item for funding educational services to support students with disabilities.
Other university milestones reached during his tenure were the re-accreditation of the university's programs by the North Central Association of Colleges and Schools following a two-year self study; approval by the Ohio Board of Regents of Wright State's Ph.D. in engineering program; the establishment of a faculty senate; and the establishment of Wright State as the leader in the Information Technology Research Institute, an academic/industrial research and development collaborative with the Ohio Board of Regents, the Miami Valley Economic Development Coalition, and Wright State.
Dr. Flack came to Wright State from Rowan College of New Jersey, where he was provost and executive vice president. President Flack passed away on March 29, 1998.
Paige E. Mulhollan (1985–94)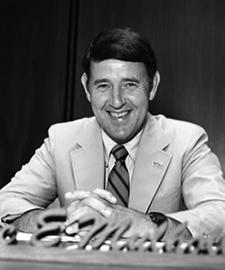 Paige E. Mulhollan was named Wright State's third president in 1985. He is best known for shaping Wright State's mission as a metropolitan university dedicated to service and leadership to the Dayton metropolitan area. Wright State hosted the first national conference of metropolitan universities in 1990 and launched the journal for member universities.
Another legacy of the Mulhollan years is an expansion of facilities and programs that enhance student and academic life: on-campus housing increased to nearly 2,000 students; the Ervin J. Nutter Center and the Fritz and Dolores Russ Engineering Center were built; and a new Student Union began construction. The College of Science and Mathematics split in 1985 to form the College of Engineering and Computer Science and the College of Science and Math; the Center for Teaching and Learning opened in 1993 to assist faculty development in teaching; and Wright State athletics moved to Division I competition.
Mulhollan came to Wright State from Arizona State University–Tempe, where he served in the executive vice president post.
The 1990s saw continuing community support for Wright State. Research funding topped $20 million in 1991–92, and in 1992, the Kellogg Foundation announced a $2 million grant to fund the Partners for Community Health Development Project, designed to improve health care delivery and develop innovative ways to train health care professionals.
Construction continued with the opening of the Ervin J. Nutter Center in 1990 and the Fritz and Dolores Russ Engineering Center in 1992.
Dr. Mulhollan passed away on June 30, 2012. A video tribute is available online.
Robert J. Kegerreis (1973–85)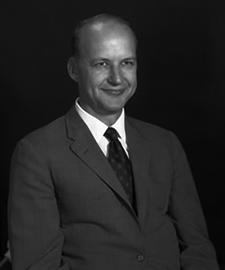 Robert Kegerreis, described as the man who brought Wright State through adolescence and into adulthood, became Wright State University's second president in 1973.
He served the longest presidential term during the years that Wright State experienced the most change. He oversaw an explosive growth in curriculum -- the Schools of Medicine, Nursing, and Professional Psychology, and the Biomedical Sciences Ph.D. program all began during his term, and eight major structures were built. He extended the university's physical reach into the community by acquiring the Kettering Center, the Cox Heart Institute, and the Fels Institute.
Kegerreis secured a major coup for scholarship funds during his presidency with the donation of a $1 million scholarship endowment from the late Charles H. Hewitt, one of the largest gifts at the time in Wright State's history.
Kegerreis came to the university in the summer of 1969 as a faculty member, and later served as dean of the College of Business and Administration. He later became vice president and director of administration before becoming president.
Not only did the university grow with the ongoing construction, it also added new programs. The School of Nursing admitted its first students in 1973, the School of Medicine in 1976, and the School of Professional Psychology in 1979.
With the 1980s came a growing excellence in the programs and students. In 1980, the Ohio Theater Alliance listed Wright State Theater's audiences as the largest of any university in the state. In 1982, the Wright State delegation to the National Collegiate Model United Nations returned with the top award, beginning an unparalleled 42-year streak of taking top honors at the annual event. And in 1983, the men's basketball team won the NCAA Division II national tournament.
Kegerreis passed away in October 2010. A campus remembrance service was held on November 18, 2010, and images from the service are available online.
Frederick White (1972–73; Interim)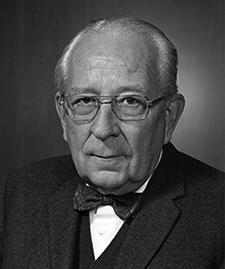 Fred White was appointed interim president of Wright State in 1972, after the departure of Brage Golding, the university's first president. Mr. White served as interim president until the appointment of Robert J. Kegerreis as the university's 2nd official president in 1973. Often referred to as "Mr. Wright State," Fred White was the first employee of the Dayton Branch of Miami University and The Ohio State University Campus, which would become Wright State in 1967. Fred was a long time administrator at General Motors with a great interest in higher education, and as efforts to build a new state university in Dayton unfolded, Fred wanted to be a part of it. White served as the business manager of the Dayton Campus from September of 1962 through July of 1965, when he was formally designated as business manager, Wright State Campus, which became Wright State University in October 1967.
A skilled manager known for his creativity and flexibility, White helped plan nearly every aspect of the development of the Wright State campus, including land acquisitions, negotiating with base officials, working with local government, managing zoning, land use and bond issues, legislative lobbying for appropriations, and the design and construction of the campus. In 1967, White was named vice-president and treasurer of the university, until 1972 when he began his appointment as interim president. The Fred White Ambulatory Care Center, later re-named White Hall, was named in Mr. White's honor.
Brage Golding (1966–72)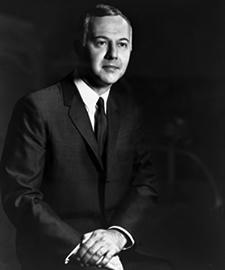 Brage Golding, known as an innovator with an entrepreneurial spirit, was named Wright State University's first president in 1966. He came to the fledgling independent university from Purdue University's School of Chemical Engineering, where he served as dean.
During his six-year tenure as president, the university expanded to include an impressive library, a student center with adjacent student housing, a gymnasium, and a creative arts center. Full accreditation, both at the graduate and undergraduate level, was achieved. Enrollment grew to more than 11,000, and the faculty expanded from 140 to 450. Under Golding's leadership, Wright State University grew to encompass four colleges, three divisions, and a graduate school, with branch operations in Celina and Piqua.
Golding earned his bachelor's and doctorate degrees from Purdue University. He left Wright State to assume the presidency of San Diego State University and later Kent State University.
Although Wright State opened its doors in 1964 as the Dayton Campus of Miami and Ohio State Universities, it wasn't until October 1, 1967, that it became Wright State University, when its charter officially went into effect.
When doors opened for classes in 1964, the campus consisted of one building, Allyn Hall. By 1966, when Golding became president, three buildings stood, and when the university was officially chartered on October 1, 1967, it was home to four academic buildings and a student center. The 1960s were a decade of amazing growth for the campus. Between 1964 and 1967, the student body grew from 3,204 to 5,000, and by the 1970–71 academic year, enrollment ballooned to 11,000.
By the end of the decade, the Ohio General Assembly had approved the largest single physical expansion in 20 years, with a $14 million appropriation to build the University Library, Creative Arts Center, and Physical Education Building.